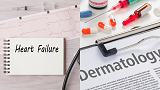 This recording is taken from the webinar Heart Failure & Dermatology Update on the 26th February 2021
Heart Failure - Carl Brookes, Cardiologist and divisional director at HHFT
Carl will cover:
Heart Failure - types and treatments
How to diagnose it
Role of BNP
New therapeutic options
When to involve palliative care
Dermatology - Dr Ed Gibbons
From the Swampy Lowlands to the Ivory Towers; Tips from a GP on a year as a Link Speciality Doctor in Dermatology. Ed Gibbons has been working in Dermatology at HHFT as part of the GP Link Speciality Programme for the last 12 months. He will share his learning and some of the tips and tricks from the last year around skin lesion recognition and diagnosis for GPs, ANPs and GP Registrars. The talk will cover the benefits using a dermatoscope in clinical practice and how high quality imaging of lesions can help clinicians and patients.
Revision of benign lesions
Use of dermoscopy
Making images useful and efficient
2ww pathway
Role of advice and guidance for uncertain lesions.